East Perth
Cemeteries . . .








Site
Management . . .







Australian
Cemeteries . . .






TOP


TOP


TOP


TOP


TOP


TOP


TOP


TOP


TOP


TOP


TOP


TOP


TOP


TOP

Nov 1, 2001
The burial places of some of the early Colonists are traceable only by the memorial stones in the cemeteries, and of their death apparently no other record exists.

In some instances where memorial stones have not been erected, no trace can be found of the burial place of persons known to have died in the Colony, nor at times can a record of death be found ... Without a record of the death or burial places of persons who might have died here, it will never be known for certain perhaps if many of the early Colonists actually died here or left the Colony. Three hundred and thiry-one deaths can be traced as having occurred in the districts of Perth and Fremantle from January, 1830, to the twenty-eighth of September, 1840, but these figures, in the absence of complete records, cannot be taken as conclusive.
That was how Mr P.E.C. De Mouncey concluded the Deaths section of his address to the Western Australian Historical Society in October, 1830. The talk was entitled "Births, Marriages and Deaths Records of Western Australia" and his Cemetery section has become a yardstick for those researching the East Perth Cemeteries.
De Mouncey recorded the following early deaths in the new Colony, but as he pointed out, it cannot be taken for granted that everyone mentioned was buried at East Perth or that they were the only people to die. He ended his account with six entries involving burials in Fremantle (F) - some of the entries mentioning more than one person.
NAME

John Mitchell
Mary Ann Burrett Skipsey
William Lane
George MacKenzie
John Hester
Louisa Jones
Sophia Hester
Ann Budden
Henry Budden
Emily Gawler
William Gawler
William Stirling
William Stirling (son of the Governor)
Anion Entwhistle
Charles Simmons
William Hokin
William Owers
George French Johnson
John Velvick
Thomas Velvick
William Keats
Charles Blisset Churchman
Nicholas Were Lancley
AGE

22
27
4 days
19
Infant
29
35
20
17 months
15
52
Unknown
Infant
30
28
42
35
33
25
22
18
43
34
BURIAL DATE

06/01/1830
25/02/1830
27/02/1830
22/07/1830 (F)
22/12/1830
23/12/1830
30/12/1830
04/01/1831
04/01/1831
06/01/1831
07/01/1831
16/04/1831
02/05/1831
05/08/1831 (F)
25/10/1831
17/12/1831
11/04/1832 (F)
19/08/1832 (F)
30/04/1833 (F)
30/04/1833 (F)
11/07/1833 (F)
25/05/1833
14/04/1834 (F)
CAUSE OF DEATH

Dropsy
Unknown
Infant death
Speared by natives
Infant death
Unknown
Unknown
Drowned
Drowned
Drowned
Drowned
Unknown
Infant death
Speared by natives
Unknown
Unknown
Inflammation
Bullet in a duel
Speared by natives
Speared by natives
Speared by natives
Apoplexy
Apoplexy
When comparing this table with the account given by "E.H." in his letter to the West Australian on January 30, 1932, reason for doubt becomes more clear. Even though "E.H." confined his account to the East Perth Cemetery, some extra names are mentioned and some of the dates are different.
Church records - and it seems that they are the only records available, copied years after from the faded loose sheets of the original - show as their first entry the name of John Mitchell, aged 22 years, private of the 63rd Regiment, who died on January 6, 1830, a few months after the foundation of the settlement. The officiating clergyman was Thomas Hobbes Scott, Rector of Whitford, diocese of Durham, evidently a visitor to the colony at the time. Before this date there were three interments, but oblivion has taken their names, with those of the fourth and fifth. The sixth was Thomas John Putt, a seaman of the Parmelia, who was born at Plymouth and died on February 10, 1830. He was followed by "Christian, a native in the employ of Mr. Tholler."

There follows a list of seamen, shipwrights, labourers and servants, humble workers of the lonely outpost. The New Year, 1831, opens with tragedy, when Anne Budden, servant, 20, her son Henry Budden, 17 months, with Emily Gawler, 15, and William Gawler were "drowned in Melville Water on Sunday, January 2," - the first of our holiday fatalities. It appears that a children's epidemic followed, for in the next few months only the names of infants are recorded, among them that of William Stirling, infant son of the Governor, who died on May 2, swiftly followed by another "William Stirling, gentleman, 32," perhaps the Governor's brother.

There were few deaths in 1831, and on February 25, 1832, Charles Simmons, first Colonial Surgeon, was buried there, aged 28 years. A little later Thomas Farmer, soldier of the 63rd Regiment, was drowned in the Swan River, and the first suicide was recorded, one Robinson, shipwright. Followed a case of typhus fever, a drowning tragedy in the Canning River, and the death of two children from whooping cought.
"E.H." went on to talk about many famous Western Australian pioneers whose headstones were still standing in 1932, and fortunately, most of them are still there today. He finished his letter with an account of "the old gravedigger, Harry Tichbon, host of that quiet company for 60 [sic] years."
Sadly, "E.H." commented that although Harry's "sole remaining joy of his last years was to tell over, with many a characteristic aside, the story of those thousands that had 'passed through his hands' at East Perth ... the picturesque wealth of his recollections was all unwritten" and went with him to his grave in Karrakatta Cemetery where his son worked as a gravedigger.


Mrs Ray Oldham provided the next clue to the existence of burial records in her address to the Historical Society in 1988.
She had already related how Ethel Burt and Clara Clement had cared for the Anglican cemetery from 1908 onwards until they married and handed the task over to Ethel's brothers, Alfred and Octavius. As would be expected, Harry Tichbon helped them identify unmarked graves and place small metal disks beside them.
In 1932, when the State Gardens Board took charge of the cemeteries in East Perth, its Chairman, L.E. Shapcott, tried to gather some information about his new charges, as Ray Oldham describes:
He wrote to all the religious denominations and to two major funeral directors asking whether they had records of their burials at East Perth. The response was disappointing. He was told no records had been kept by the Roman Catholic, Presbyterian, Independent or Jewish denominations. Only the Methodist Church was able to produce a list of 177 names, which it lent to the Premier's Department for copying. Donald J. Chipper had kept no records prior to the 1890s. Clearly a good record of Anglican burials was held by Alfred Burt in 1934, but the whereabouts of this documentation now eludes us.
Twenty years later "H.W.B." wrote an article for the West Australian on June 21, 1952, praising some private citizens who endeavoured to transcribe the remaining headstones at East Perth before they disappeared as well.
One of them, Mr. E.W. Doncaster, a man in his early twenties employed at the Government Statistician's office, has compiled an accurate dossier of graves in the Anglican portion of the cemetery. Listing over 1,000 names with location references and other essential details has been a labour of love for this young man.

Two others who are now voluntarily engaged on listing graves and essential data in other portions of the cemetery are Misses K. Caldwell and D. Henderson, members of the council of the Western Australian Historical Society.
Ted Doncaster joined the Anglican priesthood soon after that and most recently ministered in South Australia before retiring back to Perth. His efforts were not in vain, however, and were consulted in 1986 when Richardson and Davies embarked on their survey of the cemetery. Their work will be expanded upon later.
Miss Henderson was a member of the historical society and her index was also consulted by Richardson and Davies in 1986.


Interestingly, Richardson made the comment that he and Davies were unable to locate sixteen of the names recorded in the 1950s by Miss Henderson and 49 names recorded by Ted Doncaster in his Anglican cemetery index.
Both the Henderson and Doncaster indexes are preserved in the Battye Library File PR2640. A microfiched set of monumental inscriptions for the cemetery dated 1961, was also released by the Western Australian Genealogical Society, but 1961 was long before that society came into existence.
In 1986 a collaborative effort between the Royal Western Australian Historical Society (R.W.A.H.S.) and the Department of Conservation and Land Management (CALM) culminated in the release of East Perth Cemetery: Resting Place Of Western Australian Pioneers. Dr. James A. Richardson (R.W.A.H.S.) and Ranger David Davies (CALM) were the men responsible for the three volume report while Ray Oldham acted as convenor of the project. Its release also marked the historical society's golden jubilee.
Their work was by far the most ambitious undertaken and not only documented the people mentioned on the headstones, but also the description of each site, its inscription and its location within the cemetery.
When explaining the process, Richardson wrote that their index was compiled from data on existing monuments in the cemeteries, from Doncater's Anglican index dated June 7, 1952, and from Hendersons survey of all denominations made during the late 1950s. He also explained that three additional lists were constructed information gleaned from correspondence with relatives and interested parties; from newspaper reports; and form abstracts of previous surveys.
The rectilinear grid system shown below was devised to assign location references to each site. The lines ran approximately north-south across the cemetery with L1 in the north-west corner (Plain & Wittenoom Streets) and L62 along the middle of the eastern side (Waterloo Crescent & Bronte Street). Each site was assigned a number, beginning with L1-1 in the north-west corner and ending with L62-778 mid-way down the eastern boundary.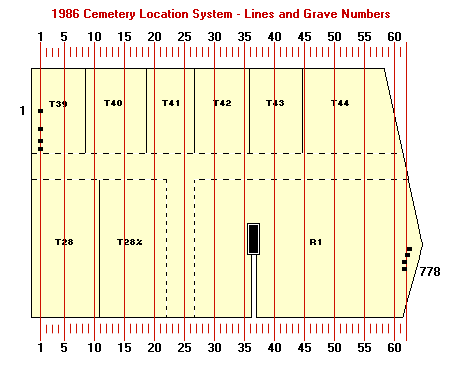 (Richardson and Davies concluded that the layout of the graves was too irregular to assign rows running east-west, although an attempt at a grid pattern is in existence with letters running west-east ranging from A to Z and omitting the letters I and O and numbers from 1 to 15 running north-south.)



The burial register presented next was based on the 1986 survey results and its location references have been included in the right-hand column. Corrections and clarifications were made after comparing the 1986 (R.W.A.H.S) and 1961 (W.A.G.S.) indexes with the Registrar General's Death Indexes which were released to the public after the 1986 project had been published. A future project will be needed to cross-reference the data with the headstones as they stand today - 14 years on.








In early 1998 two projects were completed and published by the Western Australian Genealogical Society. Both were released on microfiche and represented countless hours of research and transcription work.

The first was a transcription of the burial register for St. George's Cathedral. It was the Anglican Church in Perth which was responsible for East Perth Cemetery. The resulting index was a compilation of information taken from five burial registers held in the Battye Library in Perth covering burials for the periods of:
29/05/1854 - 09/04/1856
29/04/1865 - 20/06/1864
06/12/1858 - 26/01/1887
21/01/1887 - 28/12/1898
10/06/1899 - 03/06/1916
The second project was a collaborative effort between WAGS and the historical society and involved the indexing of East Perth Cemetery burials as recorded on Government Death Registers held in the State Public Record Office. The place of burial was only recorded in the registers after 1896 and this new index presents a record of East Perth burials for the 21 year period between 1896 and 1916. As would be expected, the number fell dramatically after 1899 when the cemeteries were closed and burials were restricted to family graves and vaults and special dispensations.
One other aspect of the cemeteries which still needs to be considered is the matter of burials which were exhumed from the cemeteries and moved elsewhere. The first burial in the Hebrew section was an exhumation, but at least in that instance, it was simply a matter of moving the remains from the Anglican Cemetery and placing them in the new Hebrew Cemetery.
Between 1917 and 1933 the Perth Diocesan Trustees gave permission for the remains of 24 burials to be exhumed and moved elsewhere. Consent from other official channels such as the Government and Commissioner of Public Health had to be obtained as well. In two cases (Saw & Wallis), the records said the remains were re-interred in the Karrakatta Cemetery, but a subsequent check of Karrakatta records confirmed that others were moved there as well.
The following list was extracted from the Anglican records and expanded with extra details supplied by Karrakatta Cemetery. It could be assumed that a similar situation existed with the other denominations and maybe, in time, similar lists can be compiled:
William Herbert Langdon - 9y, d. 28-01-1912 (re-interred Karrakatta 1917-18)
Fredrick John Liddelow [Liddlelow] - 39y, d. 01-07-1892 (re-interred Karrakatta 1920-21)
Roy Armine Shalders Liddlelow [Liddlelow] - 6y (re-interred Karrakatta 1920-21)
John Flynn - d. 23-01-1877 (re-interred Karrakatta 1921-22)
Jane Ledger - 28y, d. 29-04-1887 (re-interred Karrakatta 1921-22)
Walter Ebson Ledger - (exhumed 1921-22)
Charlotte Francisco - d. 12-04-1851 (re-interred Karrakatta 1921-22)
Edward Senior James - d. 19-02-1878 (re-interred Karrakatta 1921-22)
Lucy Randell - d. 24-01-1897 (re-interred Karrakatta 1921-22)
Amelia Wallace Croker [Crocker] - 77y, d. 25-10-1906 (re-interred Karrakatta 1922-23
Alma Glyde - (re-interred Karrakatta 1923-24)
Christina Metton - (exhumed 1923-24)
William Henry Golden - d. 23-08-1914 (re-interred Karrakatta 1923-24)
Harriet Maud Goodfellow - (exhumed 1925-26)
Charles Travers - 25y, d. 30-12-1897 (re-interred Karrakatta 1925-26)
Rose Travers - 14y, d. 18-11-1900 (re-interred Karrakatta 1925-26)
John Green - 29y, d. 15-01-1834 (re-interred Karrakatta 1925-26)
George Green - 67y, d. 03-12-1874 (re-interred Karrakatta 1925-26)
Jane Green - 92y, d. 11-10-1910 (re-interred Karrakatta 1925-26)
Henry Saw - (re-interred Karrakatta 1927-28)
Mary Ann Saw - (re-interred Karrakatta 1927-28)
Francis Tuelon Beamish - 34y (re-interred Karrakatta 1928-29)
John Henry Watts - (exhumed 1929-30)
Matthew Frederick Wallis [Wallace] - 6y, d. 26-02-1896 (re-interred Karrakatta 1932-33)
---
[ Go To Top | Home | Next ]